Where Should I Open My Business In South Carolina?
By:
Law Office of Gem McDowell, P.A
March 31, 2017
Categories:
Where Should I Open My Business In South Carolina?
Note: this blog was updated in October 2019 to reflect the most recent data available
In recent years, South Carolina has attracted numerous companies to the state that want to take advantage of various business incentives. Two such headline-making companies include Boeing, which opened its Charleston facility in 2011, and Volvo, which officially opened its Ridgeville plant in 2018.
Business owners looking to open a store, plant, office, or other business here first need to consider where they're most likely to encounter success. While available facilities, infrastructure, and local incentives may play a factor, undoubtedly the largest factor that will affect success is population.
South Carolina is Growing in Population
Companies opening a new factory or branch look for available work force to hire from. To forecast their success, they need to look not only at current population but at population trends, too.
South Carolina has been growing in population for years and was #9 on the U.S. Census Bureau's list of Top 10 States in Numeric Growth (with 62,908 people) and #9 on the Top 10 States in Percentage Growth (at 1.3%) for 2017-2018. It's a safe bet that this trend will continue for many more years and that South Carolina will remain an attractive destination for businesses.
But where are all the newcomers moving to? Is the influx evenly distributed through the state? The Charleston tri-county area sees 28 people move into the area every day, and the Charleston metro area alone is growing at three times the U.S. average. Meanwhile, several cities and counties lose people every day to other areas of the state and the country.
What's going on?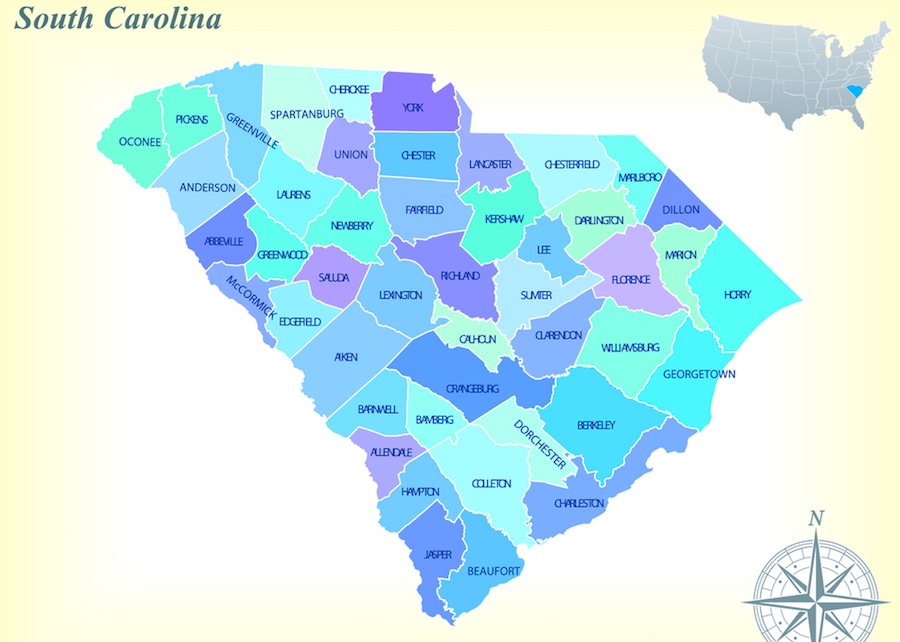 A Quick Lesson on South Carolina Demographics
At the end of the Civil War, South Carolina had 31 counties. By 1919, we had 46. Fifteen new counties were added in between, many to honor prominent men in South Carolina's history.
For years, the state ran everything and counties had very limited power. Adding counties essentially meant drawing new lines on the map. New counties were carved out of existing counties: Marion became Marion and Dillon; Charleston became Charleston, Berkeley, and Dorchester; Barnwell became Barnwell, Allendale, and Bamberg; and so on. County populations were slashed as more counties were added, but again, that had no real practical consequences, as the state was mostly in charge.
When counties gained more power after the Home Rule Act was passed in 1975, however, the number of counties – and their smaller sizes – began to matter. Where the state had previously been in charge, suddenly counties were responsible. Many counties found themselves without the ability to raise adequate funds from their low populations to provide the police and emergency services, public schools, infrastructure, parks, libraries, and other services and amenities they were now responsible for. That issue persists for some counties to this day.
Which S.C. Counties Are Growing and Which Are Shrinking?
It appears to be a vicious cycle. As counties are able to provide less to their residents, residents leave for greener pastures, leaving the county with even fewer people to tax and even less money to provide for their remaining residents.
You can see this happening in census numbers. Between 2010 and 2018, 21 of South Carolina's 46 counties have declined in population: Abbeville, Allendale, Bamberg, Barnwell, Calhoun, Chester, Chesterfield, Clarendon, Colleton, Darlington, Dillon, Fairfield, Hampton, Lee, Marion, Marlboro, McCormick, Orangeburg, Sumter, Union, and Williamsburg.
A further 11 grew more slowly than the U.S. growth rate of 6.0%: Aiken, Cherokee, Edgefield, Florence, Georgetown, Greenwood, Laurens, Newberry, Oconee, Pickens, and Saluda.
Three counties grew faster than the U.S. growth rate of 6.0% but slower than the South Carolina growth rate of 9.9%: Anderson, Kershaw, and Richland.
The remaining 11 counties grew faster than the South Carolina growth rate of 9.9%: Beaufort, Berkeley, Charleston, Dorchester, Greenville, Horry, Jasper, Lancaster, Lexington, Spartanburg, and York.
See the charts at the end of this post for all the numbers.
What This Means for Businesses Moving To South Carolina
Be strategic before selecting a place to open your business.
South Carolina as a whole is a great place to run a business, but some counties are more attractive than others due to available workforce and infrastructure. Counties with a growing population will be more likely to support your business for years to come.
In general, counties on the coast (with the exception of Georgetown) and in the northwest part of the state (which include fast-growing cities Spartanburg, Greenville, and Rock Hill) have been trending upwards in terms of population over the past decade.
Get strategic advice from Mt. Pleasant corporate attorney Gem McDowell
Population is just one factor when it comes to deciding where to open your business in South Carolina. To discuss legal aspects of your business, contact business attorney Gem McDowell of the Gem McDowell Law Group.
Business owners need more than corporate legal services to make their businesses thrive – they need strategic advice. Gem McDowell has over 20 years of experience helping businesses grow in South Carolina. He can advise on a number of topics including complex real estate transactions, where to open a new factory or office, what to do about corporate taxes, and much more.
Contact Gem and his associates at the Mount Pleasant office today by calling (843) 284-1021 or filling out this contact form online.