How Much Money Do People Earn in South Carolina?
By:
Law Office of Gem McDowell, P.A
November 11, 2019
Categories:
How Much Money Do People Earn in South Carolina?
In a previous blog, we looked at population trends in South Carolina over the last decade in the context of how that information could impact business owners looking to do business in the state. Today we're going to look at another factor that has affects businesses: median household income. Specifically, the median household incomes in select cities in South Carolina.
Median Household Income in South Carolina's Cities
According to the U.S. Census Bureau, the median household income (MHI) in the U.S. in 2017 was $60,336. That same number in South Carolina was $50,570. Interestingly, looking at the 2013-2017 median income of the top 20 cities in S.C. by population, half fall above this number and half fall below.
Of the ten South Carolina municipalities with a MHI higher than the state average, the Town of Mount Pleasant leads with $90,454, with Hilton Head Island coming second with $72,569. Median household income was between $51,863-$65,539 for the other eight cities on the list, Maudlin, Goose Creek, Charleston, Hanahan, Summerville, Aiken, Greer, and North Augusta.
Of the ten where the MHI is lower than the state average, Greenville is at the high end with $48,984, and Anderson comes in last with $32,655. The other eight falling in between are, in descending order, Florence, Rock Hill, Columbia, North Charleston, Myrtle Beach, Sumter, Spartanburg, and Conway.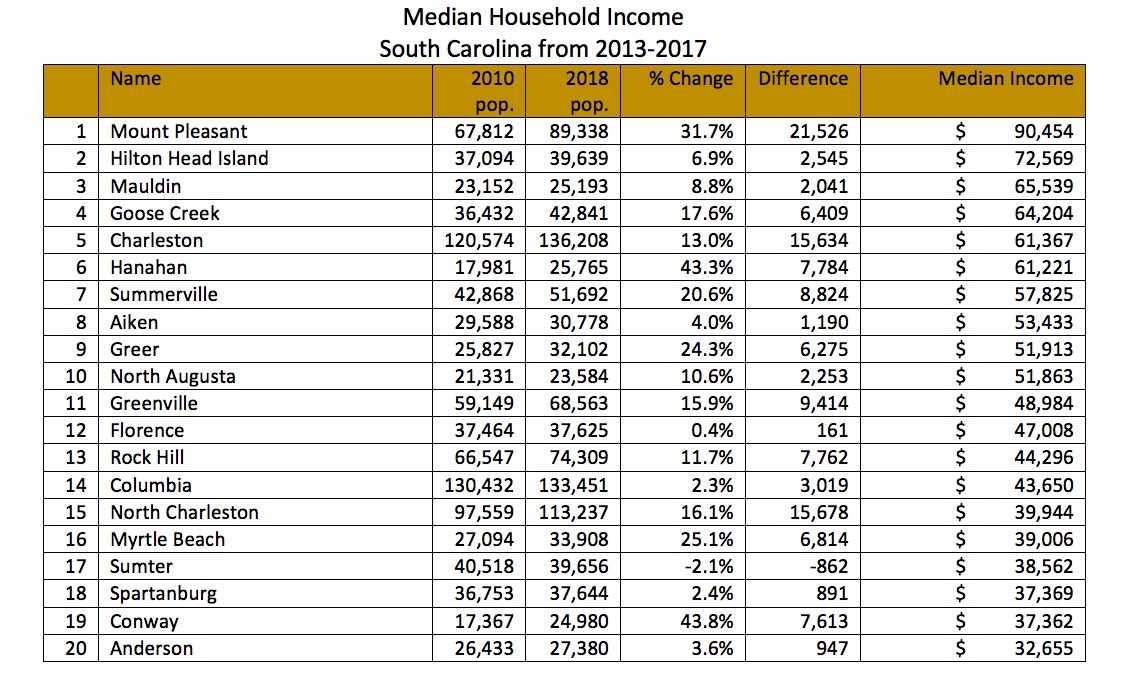 What This Means for Business Owners
If you're thinking of starting a business in South Carolina, or opening a branch or plant of an existing business here, median household income is another factor to consider (along with population) when deciding where to set up shop.
A city's MHI could have a significant impact on your business, depending on what it is. If you're a manufacturer, like Volvo, that doesn't depend on selling your product to the local market, you're in a much different position than a baker or a doctor who depends on the residents for their living. If you do depend on making sales in the local market, consider whether your product or service is a necessity or a luxury, since households with a higher MHI have more for discretionary spending.
More Strategic Advice for Business Owners
If you're an entrepreneur looking for strategic or legal advice on how to start or grow your business, contact Gem McDowell of the Gem McDowell Law Group. He and his associates help with matters of incorporation, corporate governance documents, business planning, acquisition, and more. Call the Mount Pleasant office today to schedule a free consultation at 843-284-1021.